We are always looking for individuals to fill the following healthcare jobs:
We are experienced in the provision of all the above staff – in particular,
we are renowned for being the UK's leading supplier of dialysis nurses.
JMS One makes it easy to find jobs that suit you
We are the first healthcare recruitment agency in the UK to use a fully-automated online booking system.

JMS One is a staffing solution which eliminate some common problems with healthcare recruitment agencies. It's simple, fast and efficient, making it easy to see available nursing / healthcare assistant jobs and apply for roles that suit you.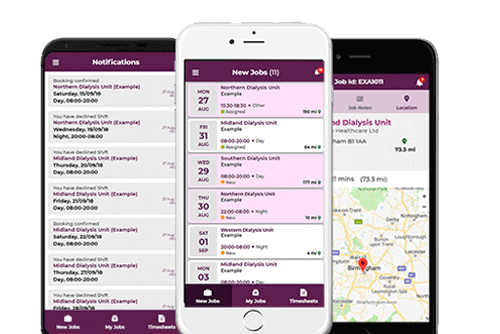 Why work with NOA?
All NOA members receive equal payment for equivalent assignments.

We fill healthcare placements all over the UK.

You'll receive alerts reminding you when any compliance component that may compromise your ability to accept healthcare jobs requires your attention.

Get paid at weekly intervals (provided your timesheets are received by the 'cut off' date).

Send messages to clients clarifying information about their HCA / nursing jobs or requesting slight timing variations.

Unless the client expresses a preference, every NOA member has the same opportunity to be informed of and accept healthcare placements.

You'll receive a weekly newsletter offering professional and operational advice (along with a lighter social element).
We see workers like you as a valuable resource, not a commodity. If you would like to register with a forward-thinking staffing agency, please get in touch today